When choosing what material to use for your commercial roof, there are many options. Built-up roofing membrane (BUR), green roofing, spray-on silicon, thermoset EPDM roof membrane, thermoplastic PVS & TPO roof membrane, shingles, and metal roofing are some of the most popular roofing options. Join us as we explore metal roofing and the various types available for your commercial roof.
Metal Roofs
There are many advantages to choosing a metal roof for your commercial building. Metal roofs often have a longer life cycle than asphalt or wood shingles. They're also incredibly hardy – able to withstand extreme weather conditions, including hail, heavy rain, snow, and high winds. Metal roofs have also been credited for protecting homes during forest or brush fires. They provide excellent insulation, which can help reduce air conditioning and heating bills throughout the year.
Although a metal roof may be more expensive than other roofing materials, it's important to keep in mind that a metal roof can last more than 60 years! Due to its longevity, the warranties on metal roofs can also range up to 50 years, which is longer than other roofing materials.
Another great quality of metal roofs is their availability in many different styles, colors, and finishes. Many great options resemble other roofing materials, such as cedar shake, slate, asphalt shingles, and clay tiles. There are several different types of metal roofing to meet your commercial roof needs: copper, aluminum, zinc, steel, and galvalume, are some of the most popular options. Here's a deeper dive into each metal roof option and the pros and cons for you to consider for your commercial roof.
Copper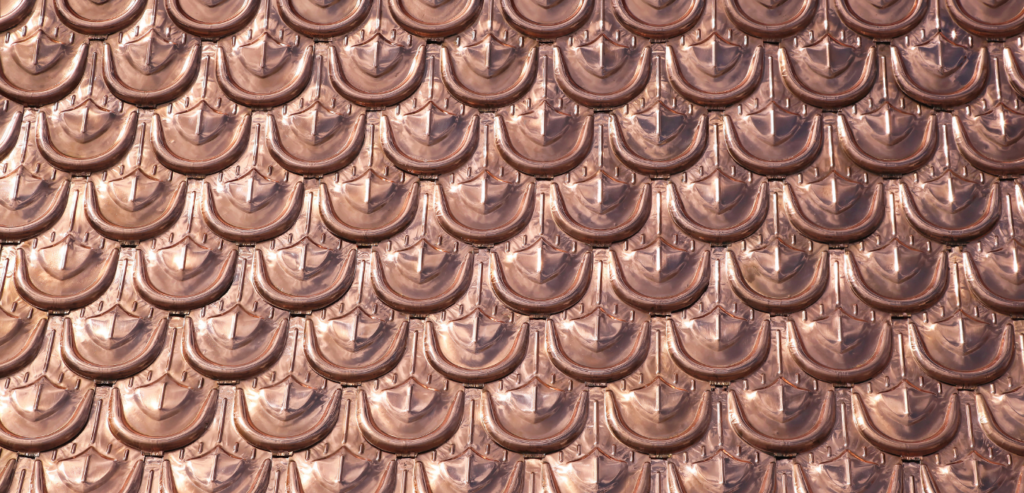 PROS
Copper roofing has been around for a long, long time. The Romans used copper on the roof of the Pantheon in 27 A.D. and today, many large architectural structures and commercial buildings still use copper roofing. This is because copper is an extremely long-lasting roofing material. If properly installed, it can last 100+ years in some instances! Copper also works well in locations with heavy snow, frequent rainfall, and strong winds. It's also extremely lightweight, which puts less stress on the structure over time. Copper is also energy efficient, can help cut the cost of your business's energy bills, and can be reused and recycled when removed. And did we mention how beautiful it is? Copper gives a metallic reddish-brown look to a roof, which develops a blue-green patina over time due to oxidation and sun exposure.
CONS
Some of the cons of using copper are that it can be easily dented because it's such a soft material. It's also considered a premium roofing material, and as such, it's one of the more costly roofing materials available.
Aluminum
PROS
Aluminum is the most lightweight roofing material on the market, and it's incredibly durable. It's also one of the most prominent and popular metals worldwide and can withstand extremely harsh weather, making it a great material for roofing. It's also resistant to saltwater corrosion and rusting, which makes it a popular roofing material in coastal areas with high rainfall and seawater spray conditions. Like copper, aluminum is also highly recyclable. Cost-wise, aluminum is a mid-range roofing material which makes it more affordable.
CONS
Similar to copper, one of the cons of aluminum is that it's easier to dent (unlike steel). If you decide to go with an aluminum roof, we'd recommend using a thicker gauge to help limit denting. And although aluminum is not as expensive as copper, it does cost more than other metal roofing materials, which puts it at a disadvantage.
Zinc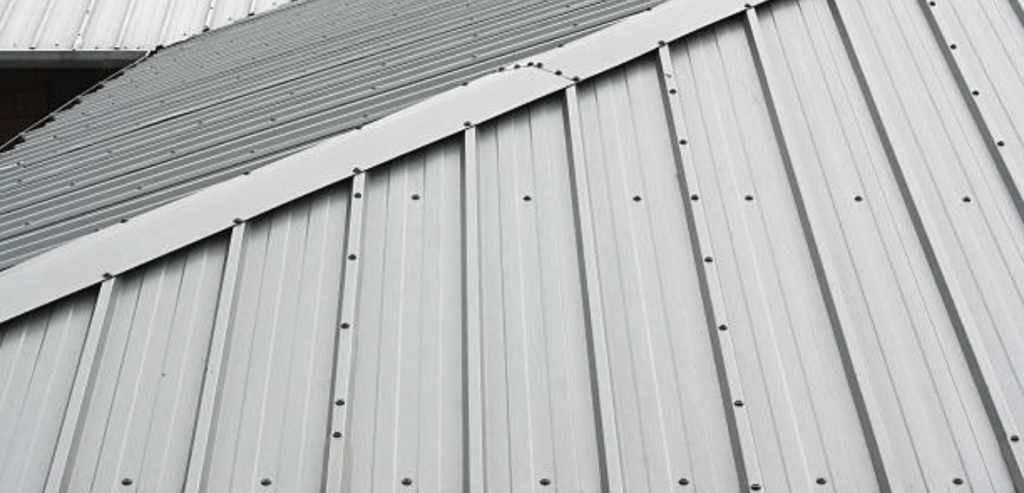 PROS
Like copper, zinc roofing has a beautiful appearance that will patina and change color over time. Its popularity in the U.S. has steadily increased due to its immunity to corrosion, ease of use, and other sustainable features. Zinc roofs are incredibly durable, lasting anywhere from 60 to 100 years! They're also very eco-friendly because zinc is a natural metal; thus, its toxicity levels are very low, even after fabrication. This also means it requires less energy to manufacture. Zinc roofs will help cut down on your building's energy costs due to their ability to reflect the sun's heat rather than absorb it. Zinc roofing is incredibly easy to maintain and has a protective outer layer that prevents corrosion, scratching, and other markings.
CONS
A disadvantage of using zinc roofing is that it's expensive – although often that cost is justified by its long lifespan. Zinc roofing panels are also less widely available than other metal roofing materials since there are only a few suppliers in the U.S., most of them import from Europe. Over time, zinc roofs can develop a chalky residue in areas where water runs on the roof, and these white streaks are often viewed as unattractive.
Steel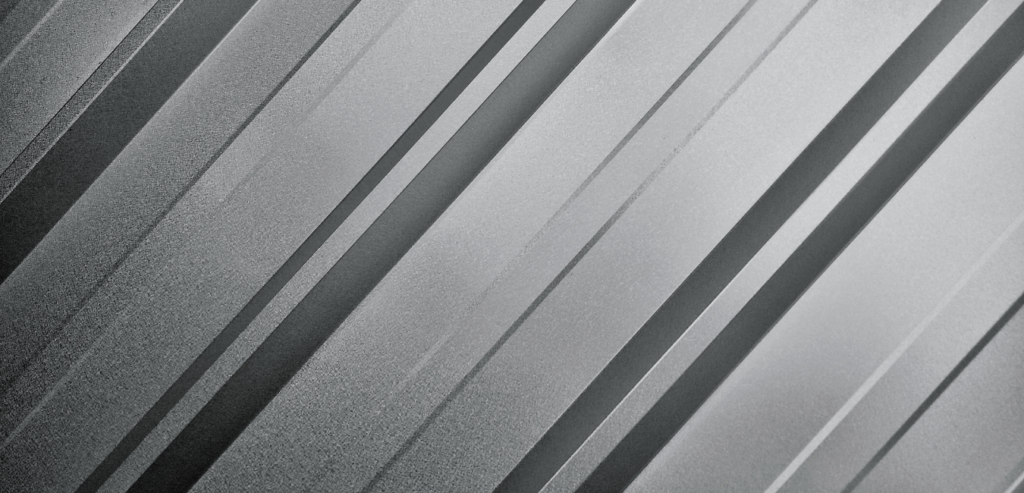 PROS
When most people think about metal roofs, they think about stainless steel. In addition to roofs, steel is also used for bridges and other large architectural structures like elevators and building columns because it's most notable for its strength, durability, and ability to withstand corrosion and degradation for 60+ years. Steel is a great roofing material in places with extreme weather conditions and climates because it doesn't become brittle or crack in extreme temperatures. It's also resistant to fires and rot. Stainless steel offers various finishes that make it easier to match many different building types and materials. Additionally, it's a cost-effective roofing material – running about 35% less than aluminum, and ⅓ the price of copper or zinc.
CONS
Although steel is an incredibly durable roofing material, unlike aluminum, copper, and zinc, it is not resistant to corrosion. This is not the best roofing material for your commercial building if your building is located in a coastal area or somewhere with excessive moisture. It's also a heavier roofing material, which means that it will cause more stress on the structure of your building than a lighter metal or non-metal roofing material.
Galvalume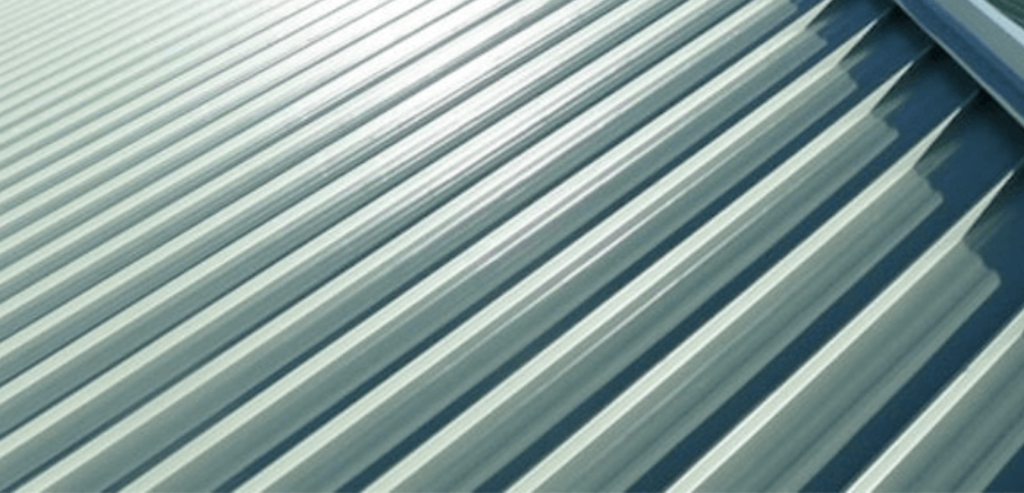 PROS
Originally introduced to the construction industry in the early 1970s by Bethlehem Steel, Galvalume combines three metals: steel, aluminum, and zinc. Since aluminum makes up more than 50% of the coating, it's more resistant to corrosion than stainless steel. Galvalume was created to include the best characteristics of each metal, making it one of the more popular roofing materials. Compared to the other roofing materials, Galvalume costs the least while offering an array of different colors and pre-painted options. It's also 100% recyclable and can even be retrofitted or re-roofed over an existing roof, bypassing the cost of tearing off the previous roof.
CONS
One of the biggest drawbacks to using Galvalume panels is "oil canning" – which is when flat surfaces appear to be wavy or distorted. This won't cause significant structural damage; however, it's not very aesthetically pleasing.
Need a New Commercial Roof?
Whether you're interested in a metal roof or some other material, our roofing professionals are ready to do the job! As a full-service commercial roofing contractor who can serve many locations throughout the western United States, we're excited to help you with your commercial roof. No job is too big or too small – we can do it all! Just contact us to get started!