If you're considering installing solar panels on your commercial roof, the best way to consider this type of project is as an investment, not an expense. You may have heard about larger companies like Google and Apple adding solar panels and figured it might not be feasible for your business. The great news is, solar isn't just for big companies anymore. No matter how big or small your business is, there are many benefits to adding solar panels to your commercial roof.

Of course one of the biggest benefits is how you can save your company money. To start, solar panels can help reduce your company's operating costs. Once your commercial solar panels are installed and hooked up to the energy grid, you'll begin to enjoy lower energy bills each month. Solar panels can also help to control future energy bills, which helps immensely when it comes to budgeting. Imagine, no more unpredictable energy bills! The value of your commercial building will also increase. As the solar industry continues to grow, commercial solar panels will help to increase the value of your building. And best of all, commercial solar panels are highly reliable while also being low maintenance!
New Solar Laws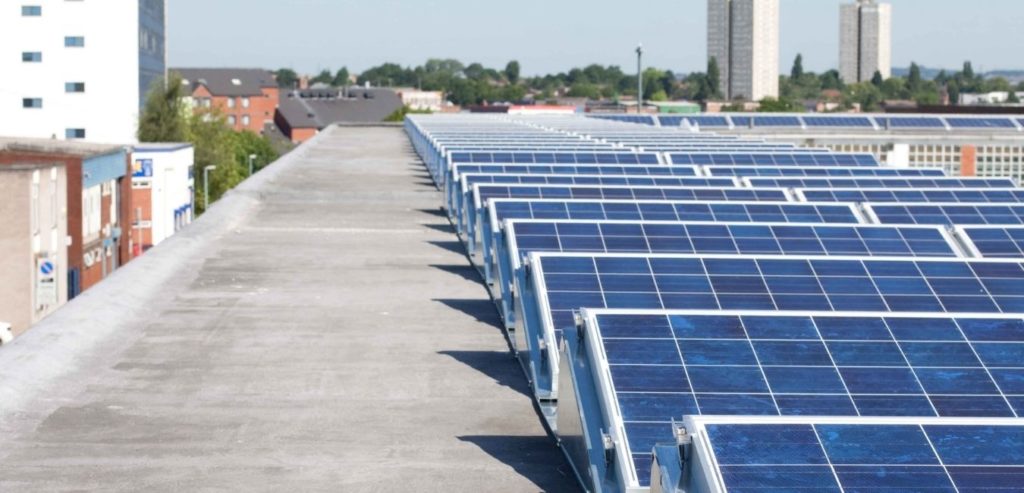 While the above noted benefits may be enough to help you make the decision to install solar panels on your commercial building, we feel it's also worth noting some of the new laws coming into effect and what that means for your commercial building. 
Last year California's Energy Commission panel voted to require the inclusion of solar and battery storage on many new commercial buildings. Which includes offices, hotels, medical buildings, clinics, restaurants, grocery stores, theaters, retail, schools, auditoriums and convention centers. Homes and buildings make up 70% of California's electricity use and about one fourth of its greenhouse gas emissions.
This proposal to revise the Net Energy Metering (NEM) 2.0 framework is scheduled for a full commission vote this month. If approved, the new NEM 3.0 will go into effect the first day of 2023. Under the current NEM 2.0, business with solar panels send their excess solar electricity to the grid. They then receive payments from their utility company in the form of bill credits. Which are then applied to their monthly electricity bill. NEM 2.0 can also help speed up the payback period from installing commercial solar panels, by providing a continuous streat of credits month after month. 
Basically, there are still a lot of unknowns about how California's proposed NEM 3.0 will change solar benefits. We do, however, know that there is incredible economic value for going solar and enrolling in NEM 2.0!
Ready to Install Your Commercial Solar Panels?
If you're ready to make the decision to add commercial solar panels to your building, it's important to consider the structural supports on your existing roof. Luckily, we specialize in the integration of these supports, and will ensure your roof can effectively and efficiently bear the changes that your new solar panels will necessitate. We look forward to offering you the best quality service and support as you move forward in your solar journey!