When it comes to roofing, we've had the privilege of working with a diverse array of clients located throughout the western United States. From Nevada's snowy winters to Hawaii's tropical shores, Kodiak has worked in all conditions on all types of commercial roofs. No matter where we work, we're able to provide our customers with the highest quality roofing and waterproofing solutions through our partnerships. Join us as we discuss how Kodiak is the Best in the West for commercial roofing.
Currently, we are licensed to work in the following states:
California
Nevada
Oregon
Arizona
Hawaii
We've also worked on projects in Idaho, Washington, Montana, Texas, Oklahoma, and New Mexico.
As a company with offices in Roseville, CA, and Sparks, NV, we're uniquely positioned to do new and re-roofing projects throughout the Western U.S. We can also provide maintenance programs and emergency roof repair in Reno, Sacramento, and the Bay Area. Whether your project requires a single-ply roof, modified bituminous, built-up roof, metal roof, or wall panels, our goal is to meet your needs and exceed your expectations. No job is too big or too small – we can do it all!
Completed Projects
Over the years, our name has become synonymous with quality and excellence in the commercial roofing industry. We approach each project as a partnership with our clients, and we work hard to ensure that we achieve their goals. Here's a look at some of our recently completed projects throughout the western U.S.
Location: Carson City, NV
System: GAF 45 mil TPO
Size: 204,967 sq. ft.
We had the privilege of working with Carson Tahoe Health, one of the largest healthcare providers in the region with two hospitals, two urgent cares, an emergency care center, and outpatient services. We used a GAF 45 mil TPO for this project, which outperforms standard TPO in heat aging and UV tests – extremely important for this customer given the location in the high desert!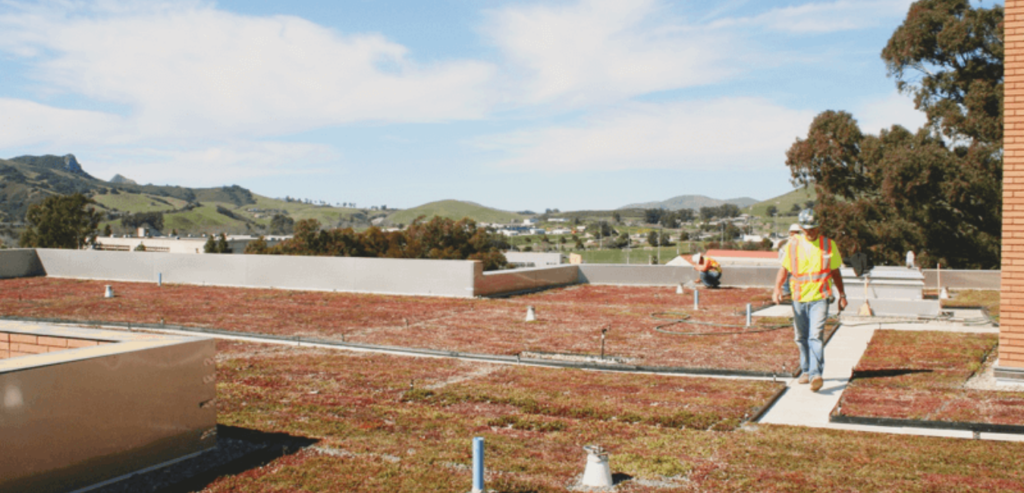 Location: San Luis Obispo, CA
System:
Sarnafil 80 mil G410 Fleeceback PVC Membrane
Sika Sarnafil 80 mil G476 PVC Membrane
LiveRoof Tray System
Located in the heart of Cal Poly's San Luis Obispo campus, the Warren J. Baker Center for Science and Mathematics is a powerful symbol of the central nature of science and mathematics in the university's polytechnic curriculum. This 189,000 sq. ft. building is where many of the university's students spend their academic careers.
For this project, sustainability and efficiency were a core focus to inspire students to respect the environment, energy, and natural resources. To meet that need, we built a LiveRoof tray system, which allows for a unique modular green roof system. We also used a Sika Sarnafil 80 mil G476 PVC Membran, a thermoplastic waterproofing and flashing membrane formulated with a fiberglass mat carrier sheet for dimensional stability.
Stanislaus Church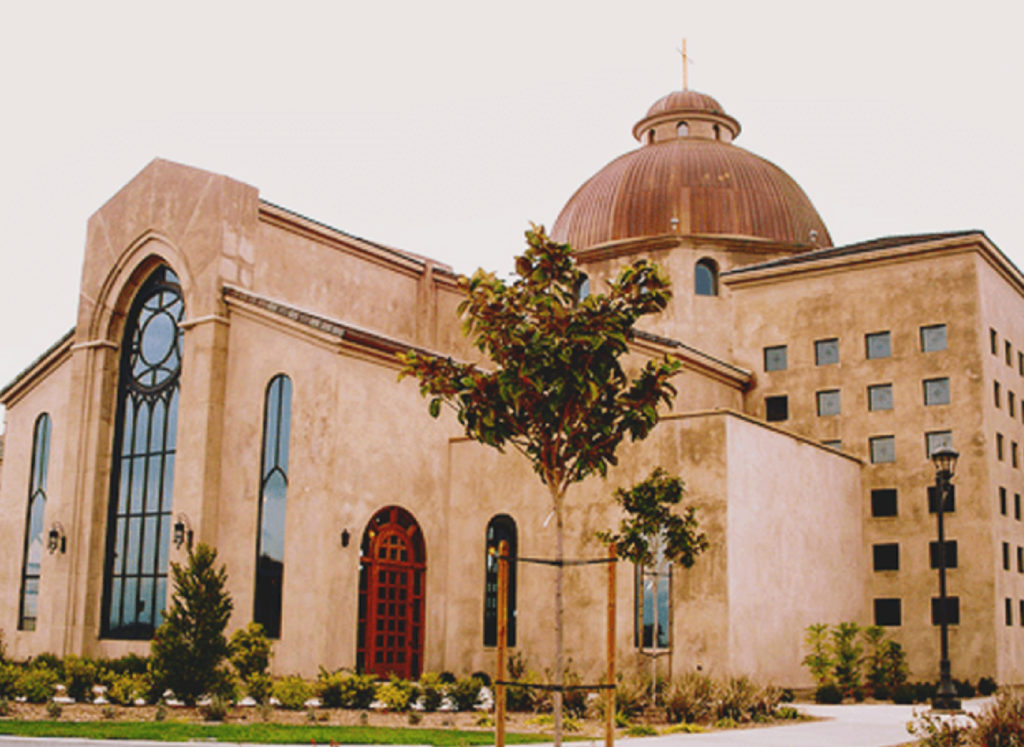 Location: Modesto, CA
System: Custom Copper Panel
Size: 4,000 sq. ft.
Originally built in 1913, the St. Stanislaus Catholic Church is a beautiful architectural tribute to the Catholic faith. The church underwent extensive renovations that included custom copper roof panels. This technique has been around for centuries and is one of America's oldest types of roofs. Once installed, the copper panels are soldered together to create a monolithic roof that will perform with little or no maintenance for up to 75 years!
Best in the West
No matter how big or small the job, we look forward to working with you on your commercial roof! Are you ready to partner with us to achieve your roofing goals?